15 Sep

Which Office Coffee Service is Right for My Salt Lake City or Phoenix Break Room?

Office coffee service is a great benefit to offer in both Phoenix and Salt Lake City break rooms. It energizes employees, makes them feel valued, and helps drive up productivity. Therefore, the only question left is which type of office coffee service to choose, because there are differences. The choice depends on a mix of factors, including the wants of your staff and the size of your team.

Interested in learning more about office coffee service in Salt Lake City and Phoenix? Breakroom Choices, an expert in all things break room, pulled together the basics of each type. So, keep reading to learn more and get a better idea of which might meet your needs.
Traditional Office Coffee Service
The most well-known office coffee service in Salt Lake City and Phoenix is traditional coffee. This means brewing a whole pot of coffee at once using a pre-measured pack. The coffee goes into an air pot that keeps it fresh, hot, and ready for employees to drink.
Air pots make brewing easy. Plus, they are a compact system that offers a lot of coffee in a short amount of time. Employees can fill their cups in seconds, avoiding lines in the break room, and the coffee stays nicely hot until the last drop. Traditional office coffee often includes coffee-related essentials as well. For example, with your Salt Lake City office coffee service, you might order napkins, straws, cups, and creamers. Breakroom Choices offers all types of break room products so you only have to order from one place.
Perfect for High Volume, Straight Coffee Drinkers

Who's traditional office coffee service great for? The answer is big groups of people who want great brewed coffee. Because the coffee is made by the pot, it's quickly available to everyone in your office break room. This is a great perk if staff aren't looking for a latte every morning or afternoon. Traditional office coffee is a dependable, high quality coffee.
Bean to Cup Coffee Machines
A type of single cup coffee maker, a bean to cup coffee machine brews fresh coffee for each drink. It does that by taking coffee beans that sit at the top of the machine, grinding them, and then brewing them. If your staff LOVES their coffee, this is the way to go. A bean-to-cup machine can make fresh espresso, cappuccinos, lattes, and more.
For our customers in Phoenix or Salt Lake City, we use the best bean to cup coffee machine – the Krea Touch. It has wifi and Bluetooth so you can order from your mobile device, including customizing it just the way you want. Overall, this coffee brewer has a high class, modern look and feel.
Keep your espresso and specialty coffee drinks tasting best with water filtration service. This means a filter on the water line that removes poor tasting particles in the water, before brewing. We also offer filtered water dispensers. This lets your staff have great tasting filtered water on demand in your Salt Lake City break room.
Ideal for Staff Who Love Tech and Want Coffee Fresh
A bean-to-cup coffee machine is best for luxury-loving offices. The brewers have a great aesthetic and sound just like a cafe. Tech lovers are impressed by the touchscreen and everyone loves that the coffee, espresso, and other drinks are fresh.
Liquid Dispensing Office Coffee Service
Don't let the name of this type of office coffee trip you up. Liquid dispensing is a modern way to brew a variety of hot drinks. With a single brewer, your staff can enjoy coffees, cappuccinos, lattes, or hot chocolates of all sizes, in under a minute. How does it work? The liquid beverage, often concentrated, is sealed inside a Freshpack. Then the Flavia coffee machine takes the Freshpack and brews it to your specifications. It is dispensed as the perfect drink.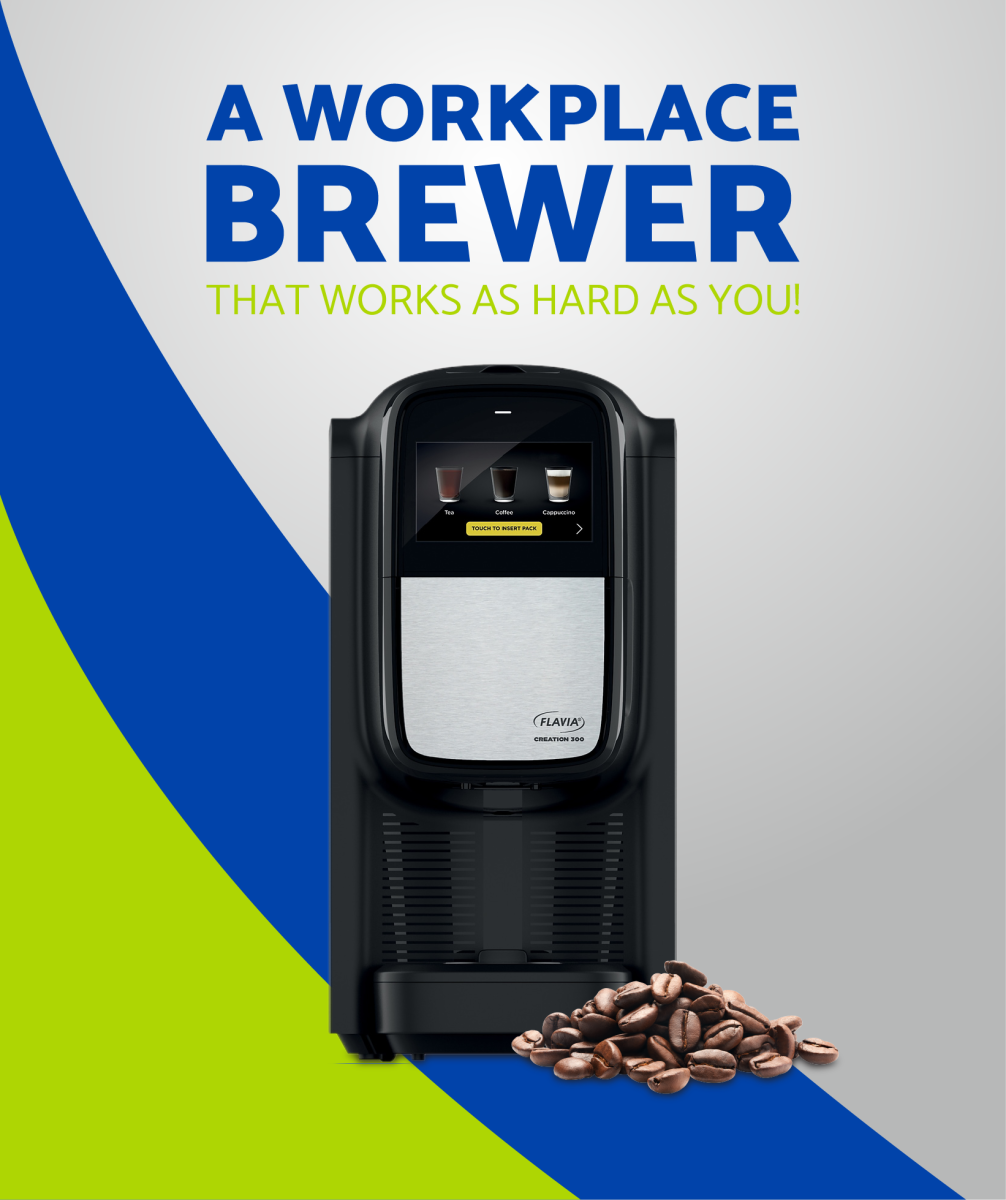 We place both Flavia C600 and Flavia C300 coffee machines in our Phoenix and Salt Lake City break rooms. Both machines use smart technology, which sends data alerts to us automatically. Plus, there is an app that allows staff to use the dispenser without touching it. That makes it very hygienic.
Smart Solution for 100-250 Employees Who Want Options

What type of business does the liquid dispensing machine work best for? In our experience, the ideal size is 100 to 250 employees. They also should have a taste for coffee drinks, hot chocolate, tea, and more. That way the many drinks available from these powerful, great looking machines will be best appreciated. This is a FAVORITE among our many customers!
Add Office Coffee Service to Your Micro-Market or Office Pantry
Office coffee service is easy to add to your Salt Lake City and Phoenix Micro-Markets. After all, micro-markets are a great vending Phoenix and Salt Lake City alternative. The coffee service can be in a separate location from the market or the drink option can be chosen in the self-checkout kiosk.
Want office coffee in your Phoenix office pantry? No problem. Breakroom Choices can put any of the office coffee options in your break room. That way it's a great compliment to the free snacks and drinks you are already providing.
You can even use your BONUS BUCKS to pay for office coffee service. For example, if you want Phoenix office coffee service and are part of our bonus bucks program, your coffee could be free.
Get Help Choosing the Office Coffee Service Right for You
In the end, picking the right office coffee service in Salt Lake City and Phoenix depends on the wants and needs of your staff. Consider the number of staff you have, what types of coffee they like to drink, and your level of luxury.
But you don't have to do it alone. We have Phoenix office coffee service and Salt Lake City office coffee service staff ready to answer your questions. We can also talk to you about other break room services, such as vending services. Give Breakroom Choices a call at 480-690-6000 in Arizona or 801-683-8783 in Utah. We've got solutions you'll love.