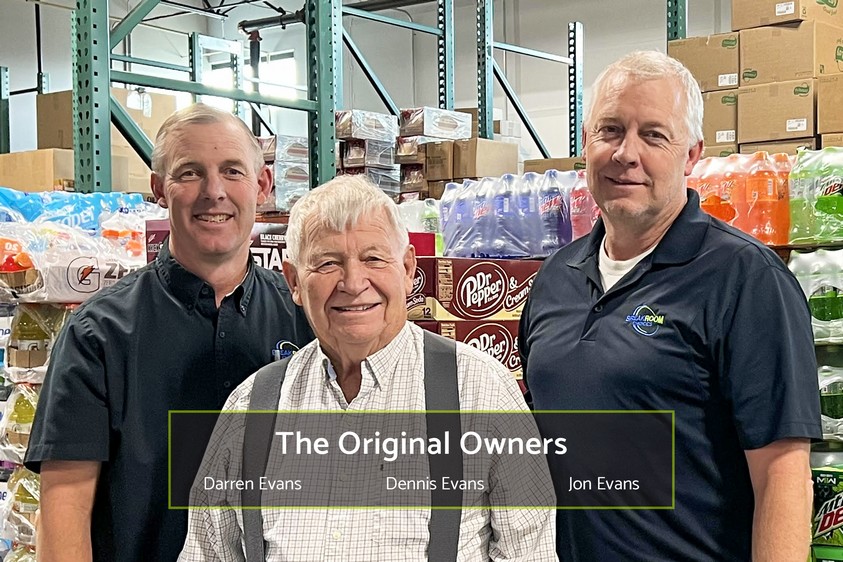 02 Dec

The History of Breakroom Choices

We're celebrating 25 years servicing Utah, Phoenix, and beyond this year! While we certainly have a lot to look forward to in the coming years, we want to take a moment to reflect on all the progress Breakroom Choices has already made. (Check out our recent Press Release by Vending Times here!) Our history is full of dedication to our customers through excellent customer service, adapting to change and technology at the right times, and our innate desire to be the best choice for anyone with breakroom needs.
A Family Business in Salt Lake City
Breakroom Choices began as a family business. On July 13th, 1994, we – Jon, Darren, and Dennis – formed Triple E Enterprises. At the time, we were a couple of brothers, forming a company with our dad. We had a vision to make some groundbreaking changes, which we were able to achieve only a year later. By 1995, we'd already designed, manufactured, and introduced the first fruit vending machine at Las Vegas' infamous NAMA show. This innovation catapulted us quickly, making us an up-and-coming company to watch.
Becoming Breakroom Choices
A few years passed and Breakroom Choices was suddenly a full-fledged, full-service vending company! In 1997, we saw quite a bit of growth. Originally, we were called "Healthy Choice Vending," which many may remember us by, and our specialty was in school vending. We were establishing ourselves in the Salt Lake City, Utah market and slowly beginning to expand our reach and services.
Just a few days before the end of 2014, we opened our first market. (In fact, we still service this account nearly a decade later!) We continued to carry our vision with us: to make breakrooms better. We could see where the trends and consumer behavior was heading within the vending industry's future, which eventually led to being one of the earliest adopters of the micro-markets concept as we know it. This innovative concept has skyrocketed in breakroom communities, particularly as the world navigates the return of employees in offices again.
Breakroom Choices Growth and Expansion
Innovation and growth is great – but it also requires more space with more employees! We were ecstatic to move into our newly built, beautiful, 30,000 square foot building to accommodate our growing business in 2018. We are thankful we made this move, especially since we'd added nearly 90 more markets by 2019.
Naturally, every business took an initial hit with COVID-19. We bounced back with a vengeance, however, by opening 32 more markets in 2020. In fact, we had the privilege of adding our 100th market! As a third-generation company, we were truly grateful to see our growth as just a couple of brothers with their dad that had grown to serve throughout Utah.
Entering the Phoenix Metropolitan Area
In early 2021, we felt it was time to expand to Phoenix. We opened a new branch in the Phoenix Metropolitan area and gained 43 more markets in less than a year! Since then, we've gained 43 more markets – and counting! Our current market count is 200+ with exponential growth expected next year as well.
To all of our markets thus far – we appreciate your business. We're humbled and grateful for everything that led us here. We hope you'll join us as we continue to look to the future, full of opportunities.
Join Breakroom Choices
Want to be part of our legacy? Contact Breakroom Choices to talk more about how we're the best choice for your Salt Lake City or Phoenix business.
CONTACT BREAKROOM CHOICES TODAY