29 Sep

Introducing the Flavia C300 for Office Coffee Service in Phoenix and Salt Lake City – The Coffee Machine That Works as Hard as You Do

Flavia single-cup coffee makers are some of the most popular Phoenix and Salt Lake City office coffee service options. The reason is simple. A Flavia coffee machine makes each cup fresh. Plus, there are loads of drink choices, ensuring everyone gets the hot beverage they want. This makes it preferred by staff over traditional coffee brewers.

Breakroom Choices has brought a new Flavia coffee machine to our office coffee service in Phoenix and Salt Lake City. It's the Flavia C300! With just as many drinks, a more compact build, and a smart interface, this brewer takes the office break room to a new level. Keep reading to find out more about the Flavia C300 and how it can benefit your company.
Reliable, Cafe-Style Office Coffee Service
The Flavia C300 includes all you love about the Flavia C600, plus more. For example, a Flavia C600 in your Phoenix break room is a commercial-grade brewer built for daily use. It has many options for coffee, hot chocolate, and teas all made within a minute. Plus, the patented brewing process avoids cross-contamination of flavors.
The C300 offers all this and some extras. The size is smaller than the C600, so it can be a second single cup coffee maker placed in your Salt Lake City office. That gives your staff access to fresh, personalized drinks in more areas of your business.
Innovative Office Coffee Service Tech
In addition to being compact, the Flavia C300 uses "Flavia IQ." This makes managing the coffee brewer simple and easy. Not to mention that the Flavia C300 is a smart device. It monitors what your team is drinking in order to show trends. This speeds up stocking. And the Flavia coffee maker automatically sends service alerts when the brewer needs support. Sometimes, it can be as simple as a reboot, which we can do remotely. That's a great time saver!
Let's not forget the tap and brew app. This lets your smartphone control the Flavia coffee machine. Simply walk up to the brewer, open the app, tap, and start crafting your drink. It's a touch-free solution for your Salt Lake City office coffee service.
Easy Office Coffee Service Add-On to Markets
Whether you have a Phoenix micro-market or Salt Lake City residential market, the Flavia C300 is a welcome addition. Why? Because it encourages staff and/or residents to visit your location. For instance, in Salt Lake City and Phoenix micro-markets, employees will stay onsite for breaks, yet have the variety they crave for both drinks and snacks.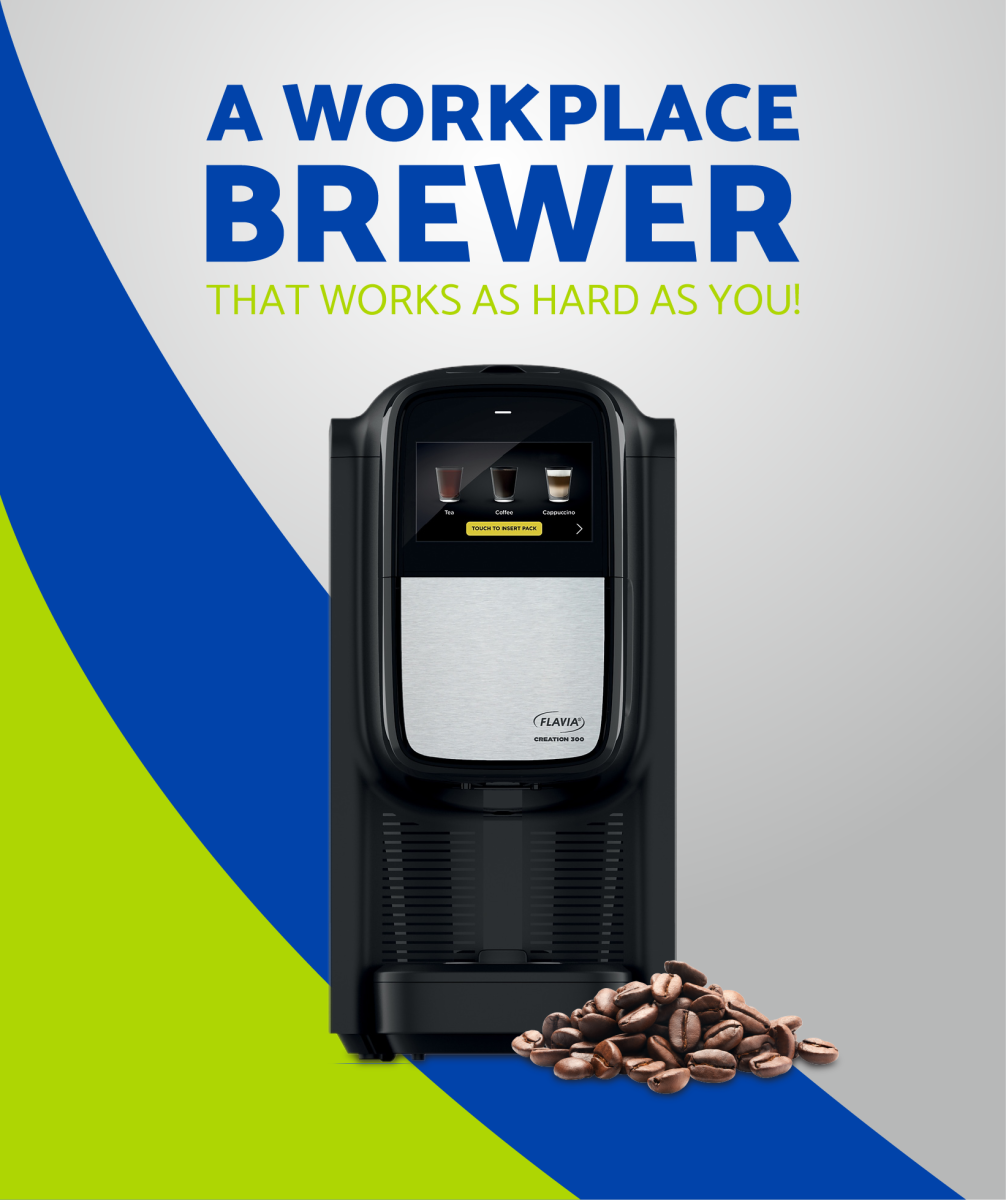 For tenants, a Flavia drink maker in a residential market entices people to come in and shop. It gives them back time in their day and is convenient. Most importantly, the C300 works well and consistently brews great-tasting, personalized drinks.
Pairs Perfectly with Vending Services in Phoenix and Salt Lake City
Micro-markets aren't the only break room service this Flavia office coffee service solution compliments. This brewer offers the aesthetic and variety ideal for many Phoenix office pantry service customers or even Salt Lake City vending machine locations. Plus, the Freshpacks used to make the drinks are unique to Flavia machines, so your team won't have these options at home. You can even use the special Bonus Bucks Program offered by Breakroom Choices to pay for your office coffee service. Here's how.
The Flavia C300 works even better with our Phoenix and Salt Lake City water filtration service. The filtered water comes from your water line and goes into the Flavia single-cup coffee brewer. This ensures the hot chocolate, coffee, or tea you choose tastes its absolute purest.
Get a Flavia C300 as Your Coffee Solution Today
While we also offer the best bean to cup coffee machines, there is no denying the popularity of the Flavia C300. The customizable drink size, mix of flavors, simple use, compact size, and smart alerts all make it a Salt Lake City and Phoenix office coffee service winner.
If the Flavia C300 is a single cup coffee maker you're interested in, give Breakroom Choices a call. We are happy to discuss the ins and outs of this break room service solution and compare it to traditional equipment or even vending Phoenix and Salt Lake City. Call Breakroom Choices at 480-690-6000 in Arizona or 801-683-8783 in Utah.