13 Jan

The Best Healthy Breakroom Partner in Phoenix

Do you want to promote a healthy lifestyle at your Phoenix business, but are unsure where to start? Breakroom Choices is here to help. You might consider us a Phoenix vending company, but we do so much more. From Phoenix vending machines to office coffee services, we have breakroom solutions to meet your needs. And healthy is at the top of our to-do list. Read on to learn why and how we can help you support staff's healthier lifestyle goals at work.
Healthy Employees are an Asset
There are many benefits to supporting the health of your team. First and foremost, healthy employees are happy employees. That means a Phoenix workplace full of dedicated and highly productive staff who work well together. That's certainly something to support.
A second benefit is that healthy workers are sick less often, further boosting productivity. Plus, being in good health means your staff avoids preventable medical issues with high costs. That can keep insurance premiums low for everyone.
Finally, a healthy staff brings joy to the workplace. Your Phoenix office morale will be at an all-time high. The positive feel can drive up retention and help with recruiting.
Solution: A Phoenix Micro-Market
Support your staff with well-chosen breakroom solutions, such as a Phoenix micro-market. This open-concept service offers hundreds of options. There is plenty of room for healthy products. The glass-front cooler houses fresh salads, cut-up veggies, yogurts, meat snacks, vitamin waters, all-natural juices, and more. It makes grabbing a healthy snack or nutritious lunch simple.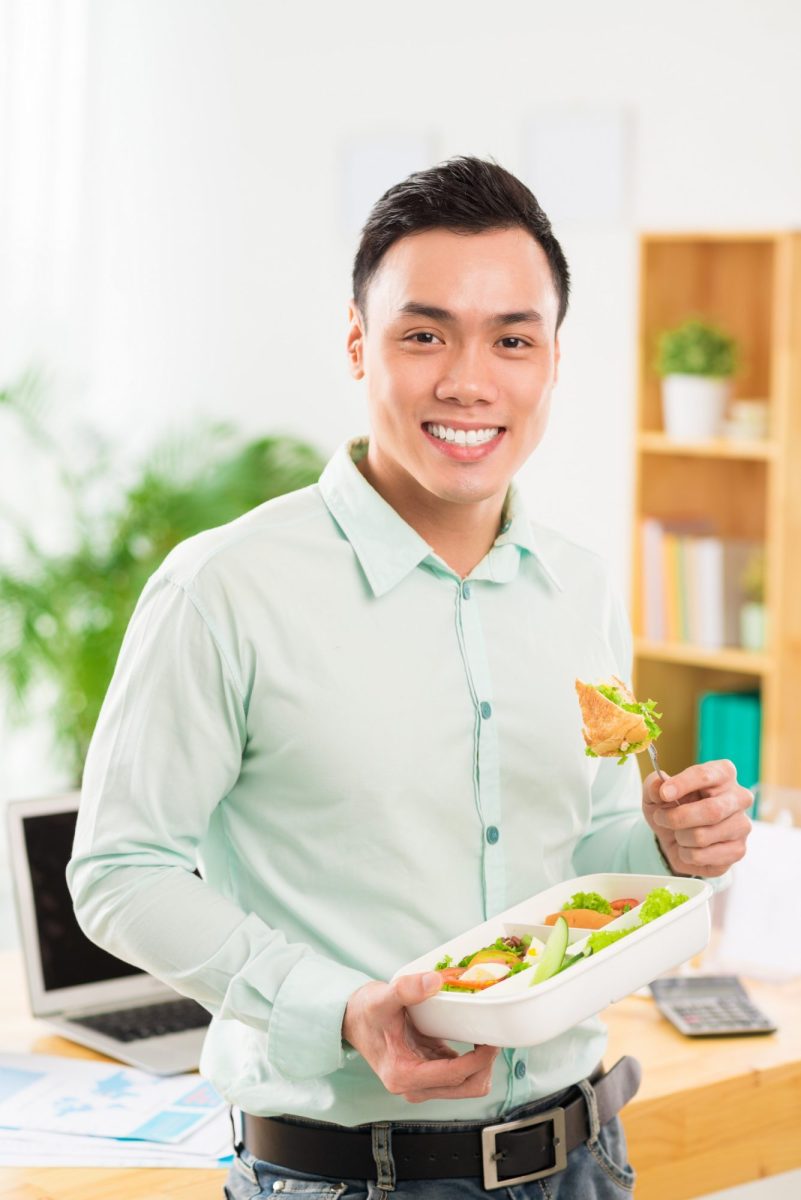 A Phoenix micro-market makes it easier for staff to focus on eating healthy at work because there's no need to waste time leaving to find nutritious options. Plus, it's easy to shop at a micro-market. The self-checkout kiosk uses the latest tech. It accepts many payment types, including mobile wallets. So, consider an upgrade from the Phoenix vending machine to a micro-market.
Want to further encourage healthy options at work? Try subsidizing them. You can pay some of the cost of the micro-market items to make them cheaper for staff. This will encourage workers to buy those items. It works great for healthy options. Or, you can add additional breakroom services, such as a water filtration service. This encourages employees to drink more water by making it taste better. And, this simple upgrade can instantly make the office coffee taste better.
Pantry Service and Other Services
Another option that promotes healthier snacking is office pantry service. You can set a dollar amount per employee, per day. We'll bring snacks and drinks into your Phoenix breakroom that fit the budget. Then your staff can enjoy them free of charge. What an incredible way to show support for your staff's wellness!
Don't overlook healthy vending machines either. You can request a full healthy vending machine. Plus, subsidize the products inside so your team gets them free. It's part of creating that custom Phoenix breakroom we know you'll love.
Breakroom Choices Delivers Healthy Breakroom Services
Being able to support Phoenix staff looking to eat healthier means having the right partner in the breakroom. That's Breakroom Choices. We customize menus to ensure staff enjoy the healthy options. Plus, we offer product sampling. Then you can try all the choices before paying for them to be in your breakroom.
Ultimately, our goal is to make offering healthy choices in your breakroom easy and affordable. Contact Breakroom Choices today at 866-246-4239 or info@breakroomchoices.com for your breakroom service. We can't wait to hear from you.